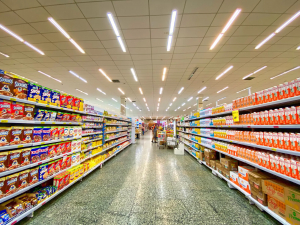 Talking about Barcode for supermarkets is equivalent to what we have written for Retail Stores Chains. The methods of using GTIN Barcodes are the same. You can apply the Barcode in the packaging design or use printed labels, but it is always important to inquire about the specific requirements. It is common for entities in the Grocery Retail Chains to request GTIN registered to the manufacturer. But why is that?
GTIN for Supermarkets
Some supermarket chains, including those in the Grocery Retail Chains, may require specifically registered GTIN Barcodes. Before purchasing the Barcodes, it is always helpful to understand the requirements for product coding. The necessary codes can be obtained through one of our services, either the Standard Service or the Codifica Service.
By using GS1 GTIN Barcodes, you can be confident that your unique numbers will be accepted by major retailers and distributors worldwide.
Barcodes, Supermarkets and GS1
To understand the relationship between GTIN Barcodes and supermarkets, including the Retail Store Chains, it is necessary to look at the structure of GS1. GS1 is an international, neutral, non-profit organization that develops and maintains standards, including GTIN Barcodes. It is governed by large manufacturers and global leaders such as Amazon, Carrefour, Carrefour, Google, Johnson & Johnson, L'Oréal, Metro AG, Migros Ticaret, Nestlé, Procter & Gamble, Walmart, etc., who are part of the GS1 board of directors. This is a simplified overview, but it gives you an idea.
More than six billion scans per day are conducted for GS1 GTIN Barcodes present on over 100 million products.
Grocery Retail Chains, Supermarkets, and Hypermarkets: Why GTIN Codes are essential for product labeling
In Italy, companies such as Auricchio, Barilla, Bauli, Bennet, Conad, Consorzio Coralis, Coop Italia, Crai, D.IT Distribuzione Italiana, Despar, Esselunga, Ferrero, Gruppo Lactalis, Gruppo Nestlé, Gruppo PAM, Kellogg Italia, Lavazza, Metro Italia, Parmalat, Penny Market, Sutter, Végé Retail and many others utilize GS1 GTIN codes.
To ensure that GTIN Barcodes comply with GS1 standards, our "Codifica" Service is the ideal solution. It is important to verify that the applied GTIN Barcode is accepted by the customer or to request a customized one.
For labeling with GTIN Barcodes in supermarkets and similar stores, it is always advisable to coordinate with the customer's coding department.
For minimarkets, local distributions, or when full traceability is not required, the GTIN Barcodes with shared prefixes provided by our "Standard" Service are more than sufficient.
It is no coincidence that the GS1 standard is widely used, and the GTIN Barcode uniquely identifies the product and packaging worldwide. For eCommerce, you must identify products with a GTIN Barcode, just as it is done in stores or supermarkets.